Space saving, easy installing, easy to use and fast-heating. These are some of the great things about the best 2 person hot tubs.
When you are only planning to join your significant other in a hot hot tub spa, or you only need a hot tub spa small enough to fit inside your bathroom, a two person hot tub spa is usually the best way to go.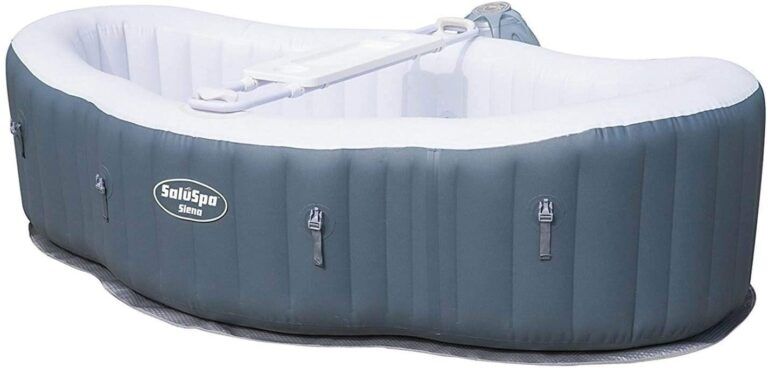 Pros
Large amount of jets
Durable material
Inflatable
Cons
Review
A more high end inflatable hot tub is the Bestway SaluSpa Siena. It's very roomy for 2 people and not only that but the exterior is really durable, especially for an inflatable tub.
The material it is made of is a Tritech material. It is basically a 3-ply reinforced layer that has a mesh core embedded in it made from polyester sandwiched in between two layers of PVC which is a more flexible plastic.
The tub's jets are pretty awesome, being that there are 120 of them! The air jets can be turned on and off at will and there is also a reassuring automatic shutoff feature that is on a timer. This saves you lots of energy if you forget to turn them off.
It is on the smaller side, but that can be a great thing depending on where you are planning to put this hot tub. If it's inside, the size will definitely be great if you don't have a lot of room.
And if you only have a limited amount of room outside or if you have a specific space in mind that will only hold a small tub, this is a good option for you.
It's also got a really helpful beverage table, which is a feature you wouldn't normally expect on an inflatable tub. It is always useful when you are relaxing and you are able to either put your drinks or your food on the table.
And always useful in an inflatable tub is the added pressure gauge. You'll use this to judge the amount of pressure your tub has and make sure the pressure in your tub is not too high, possibly damaging the tub or causing it to burst.
An unfortunate part that this hot tub does not include is a headrest. Usually inflatable tubs are pretty comfortable without one since they don't have hard surfaces like acrylics made hot tubs, but it would still be nice if it had a dedicated headrest for you and your partner.
Pros
Cons
No Ozonator
Only one cupholder
Review
The Laguna is one of the best 2 person hot tub spa that's easy to set up. One of its best features is that its seats conform really well to almost everyone's body types. Sitting in a hot tub spa for a long, relaxing soak is a great time. But if you can't sit in it for long because it's honestly not that comfortable, it takes away from the enjoyment.
You can chill out in the Laguna tub for hours at a time and be very comfortable, while also knowing your tub is heavy duty.
Its control panel is super easy to access and control.
It's also a very easy to install tub as all you need for hook up is a simple water hose to fill it and a normal household plugin. Not all hot tubs are this easy.
The heat recycling system built into the Laguna Spas 2 person hot tub spa uses the pump and motor's heat that comes off of it as its working to heat in tandem with the normal method to keep the water hot. This heats your hot tub spa efficiently and doesn't waste a lot of energy like other hot tubs.
This is one of the best 2 person hot tubs because you can actually customize the stainless steel water jets specifically. You can choose from a variety of the stainless steel jet features for this hot tub spa and hopefully get the best experience out of your jets as possible.
Pros
Silent heater
Customizable
Easy to install
Cons
Review
If you're ever annoyed by the loud whirring of your 2 person hot tubs heater, the noise overtaking conversations or just being too loud in general, the American Spas AM-628TS might be the two person hot tub spa for you.
Its motor, a 5kW, is a really heavy duty titanium heater for this tub, but it's very quiet compared to most hot tubs. Also, its push button on switch is really easy to use, unlike some other tubs which are a little more complicated.
The American Spas am 628TS is heavy duty and has a whopping 28 stainless steel water jets! And since it's a two person tub, that means there are 14 jets per person. That is a ton of jets! You're going to get one of the best massage experiences from these jets that you can find in this two person hot tub spa.
You can turn the hydrotherapy constructed stainless steel water jets on and off individually, which is an awesome feature to save energy and only use the stainless steel water jets you want to use.
This is one of the best 2 person hot tubs because not only can you turn each one on and off, you can also change the direction that they flow into, and you can even change the pressure of the flow of water coming out of the jet.
Also they are made of stainless steel which makes each jet able to last for a long period of time.
This acrylic made 2 person hot tub spa cleans your space using its Ozone purifier. This turns the oxygen in the water into ozone which then can kill a variety of bacteria and contamination.
This 2 person tub however does not have very much insulation, so your heating engine is going to be working pretty hard and may give out faster than some other hot tubs with better installation.
Also, you're going to have to manually drain your 2 person tub as it does drain most of the water out after use, but not all of it. You'll probably have to hand bail the water out with this one. Not all tubs have this problem, but this one does.
Pros
Heavily insulated
Easy install
Cons
Loose topper
Too deep for some
Review
One of the best 2 person hot tubs, the Yukon hot tub is a great place for you and another person to spend some relaxed, enjoyable time together.
It is a pretty easy to install and easy to set up this hot tub spa, as it can be powered and the water heated and kept hot by any normal outlet. But it is still heavy duty. Some of the best 2 person hot tubs require you to have a complex electrical system to hook up to, and may even require a licensed electrician to help you install. The Yukon is one of the best 2 person hot tubs because it doesn't require all this extra work, all you have to do is plug in and go!
There are sixteen stainless steel water jets that can be adjusted to fit your preference of flow and direction for each of the jets. The stainless steel jets are the backbone of any hot tub and if you don't have enough jets, you won't get the best experience.
A really exciting feature on this best 2 person hot tub spa is its built in waterfall that provides a gentle atmosphere and an interesting spectacle. Along with the waterfall adding to the atmosphere, the Yukon has an aromatherapy canister that's built in which allows you to include the best fragrances to your relaxing experience.
On the perimeter of this 2 person hot tub spa, the Yukon also boasts some really great LED lighting. You can adjust your settings on the LED lighting, either making them bright for party lighting, or dimming them down to set a more relaxing mood.
A cleanliness addition in the Yukon, one of the best 2 person hot tubs, is the ozone water purification system that provides a great way to make sure your hot tub spa keeps its purity. Not all tubs do this.
Heat trapping is one of the things the Yukon does best as well. Its insulation is packed with cell foam that has a very high-density.
Also, an MP3 system for all your audio fun is built into your best 2 person hot tub spa, and the best part is the speakers actually pop up!
Pros
Large filter
Silent heater
Cons
Review
The acrylic AM-418B American Spas model is heavy duty and offers eighteen stainless jets to cover all your relaxation needs, while also being easy to set up and easily controllable by the control panel. The stainless steel jets water is also heated by very quiet mechanics so that your time in your 2 person tub won't be spent listening to your loud heater.
The jets are also built out of stainless steel so you won't have to worry about replacing it any time soon. These replacements can be pretty expensive so having a two hot tub spa that lasts a good while is really handy.
The American Spas Hydroclear ozonator also works similarly to other 2 person hot tubs in that it cleans out all the nasty bacteria and other contaminants by turning oxygen into ozone, which is great at destroying those kinds of harmful dirt.
There is also a little gate that traps large and small debris from getting into the actual water system. It's a pretty big filter and most hot tubs don't have similarly large filters. Definitely a great bonus to have if you don't want to be manually cleaning your 2 person hot tub spa all the time. It's also great because the inner mechanics of your water system won't get clogged as often as other hot tubs.
This American Spas, 2 person hot tub spa also has a problem, like some others, with draining completely. You're going to have to do a little bit of manual labor to get the remaining water that the drain doesn't get. This is not a huge inconvenience, but it is a pretty consistent one with this two person hot tub.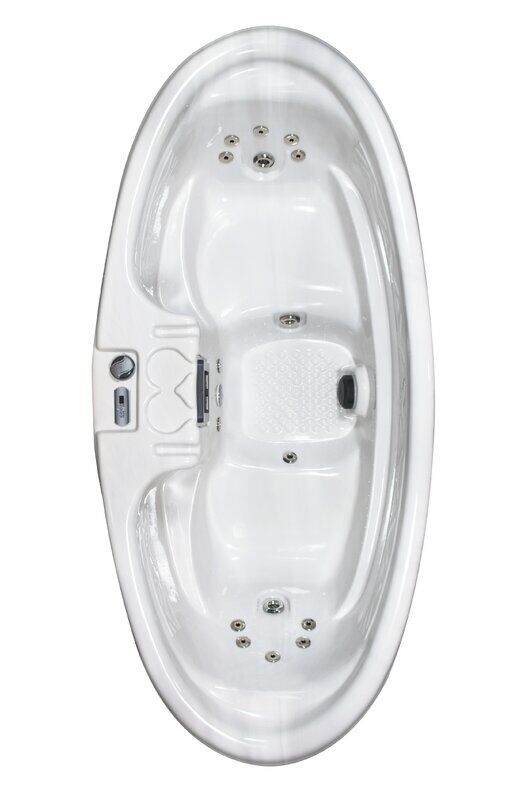 Pros
Efficient heating system
Easy to install
GFCI protected plug
Cons
Review
The cord for the QCA spas model 0 hot tub has a GFCI protection. and is easy to use and easy to set up. This means your 2 person hot tub spa is protected from unnatural electrical frequencies. You won't be prone to electrical short outs and none of your hot tub times will be cut short.
With a two stage heating system, the QCA spas model ends up being one of the best, most energy efficient hot tubs to get your water temperature perfect. While the first stage of heating initially heats up the water, the second heating stage recovers a large amount of the generated heat from the pump and also the motor in order to more efficiently keep your 2 person hot tub spa nice and hot.
Made with acrylic material, the QCA spas model has a very strong outer layer made with a three layer strengthening method named Dura-Bond.
The cover for this 2 person tub model is actually pretty light as well, so even if only one person is using it, it may not be too heavy to take on and off and has a good seal to keep the water hot.
Heating this hot tub to a higher temperature with its control panel isn't the best and can sometimes be a problem. The hot tub doesn't always get up to the desired heat and this is kind of a big deal, since getting the tub hot is basically the main tenant of a hot tub.
The skirted style of the Monarch sink is also very sleek and modern looking. If you are updating your bathroom, the style will give the bathroom in your home a great finishing look.
Pros
Cons
Review
This inflatable hot tub also has a whopping 120 air jets that are pretty powerful and you can easily change the temperature of the water.
Fiber-tech is used to create the material that sits on the outside of the hot tub. This is really great specifically for protection against unexpected punctures to the hot tub.
The shape of the tub is pretty great as well because it means no matter where you are in the tub, it will conform pretty well to your body. Also, the more firm edges of the tub can support your weight really well, so if you want to lean on it or sit on it, the sides will keep their shape.
Filtration cartridges are available for the hot tub and only have to be replaced every once in a while since there are two of them.
The cover is great as well. It has a locking mechanism which will keep animals and kids from climbing in unexpectedly, and it is also pretty well insulated so that if you want to keep the water hot but don't want to make the heater work too hard, you can trust the cover will keep everything nice and warm for you.
A carrying case is included with this hot tub. Though you probably won't be taking it from place to place very often at least you have that option. You can also use it if you want to put it away if you don't want it seen, so the case is still a good addition for keeping tidy.
The jets have a little bit of a problem in their placement. They are all lined up perfectly in one solid row. This isn't a huge deal breaker, but ideally you would really want the air jets to be at multiple levels inside of the tub so that you can get the best possible body to jet coverage.
There is also a floating dispenser that actually regulates the amount of chlorine in the hot tub. While a nice feature, that can be annoying sometimes as it may float in between you and your partner, and can be easy to lose.
Pros
Cons
You must be in it when filling
Inward-opening door
Review
The Ella's Bubbles 2 person hot tub is an acrylic built tub and can be used inside out and outside, but you may have to do some special drain and flow hook up to get it to work easily outside.
It is a sit down tub which is great for people who have a hard time climbing in and out of normal hot tubs. Also, the chance of slipping and falling in this tub is pretty low, especially since there is an actual door leading in and out of the Bubbles hot tub.
There is a slip resistance floor in the tub as well and also a safety bar. You end up feeling really at ease in the tub, not only because of the relaxing jets and warm water, but also because of its number of safety features. It uses air and water in the jets which is great versatility because there is a different feel between air and water massage. There are 26 jets in this 2 person hot tub and they are all strategically placed and which gives this tub a really great body coverage of jets.
This tub features LED lights which lets you set the mood for your hot tub time.
With some hot tubs, the draining can be a problem. At times you will have to manually drain the tub by using a bucket to get the excess water out.
The Ella's Bubbles Dual Massage hot tub doesn't have this problem. Not only does it have 2 overflow drains, but it has 4 different drains to make sure every inch of water is gotten rid of after use.
Another good thing about this tub is that it only takes about 20 minutes to fill up.
The bad thing about this kind of tub is that, since it has a large door opening and that is the only safe way to get into the tub, you're going to have to be in the tub while it is filling and heating up.
Another note about the door, it's only going to open inwards toward the inside of the tub. This makes getting in really easy, but getting out a little bit awkward.
Pros
could fit three people
durable
Cons
No insulation
low power jets
Review
This Acrylic made, fiberglass reinforced 2 person hot tub is a great choice for you and your partner. The fiberglass actually has 2 layers built in which gives a scratch and impact resistant surface.
It's easy to install since all you have to plug and go.
A slip resistant flooring is built into the floor of the tub so it ends up being a safer option than some others.
The water jets are stainless steel so they are really durable. They are also placed in such a way that they reach each major portion of your back. Mid, lower, and upper. Also, there are water jets placed at your feet and also at your calf.
However, the calf jets are only placed on one side of the tub.
The jets only have a 120v power capacity, which means they are strong, but not as strong as a hot tub that has say a 220v power capacity.
The Hudson Bay hot tub can technically be used as a three person hot tub. There is a small ledge that a third person could sit on along with two other people in the main seats. However there are no jets behind this ledge and there aren't any in the feet area, so it's definitely more of a 2 person tub.
It also has a slight lower than normal water height when filled. This can be a plus for you if you don't want to deal with a lot of excess water. However, this may prevent full body coverage so you may not enjoy it as much as some other deeper hot tubs.
Strangely enough, there is no cut out for the attached ford to poke through. You may have to do that yourself.
The biggest flaw in this tub is that there isn't really any insulation to speak of, so you're going to have to install that yourself. You don't have to have it for the tub to work, but the heater is going to work pretty hard to keep it hot and the water will cool quickly without proper insulation.
Pros
Cons
Review
With 38 water jets included in the 2 person Home and Garden hot tub, it's one of best options for full hydrotherapy massage coverage.
The jets are stainless steel, which means long lasting, and the acrylic build of the tub also means that it will last you a long while. A lot of hot tubs include fiberglass reinforcement so your tub will last even longer. This one doesn't have it but the acrylic will still last a good while.
It's got pretty good insulation as well which is built into all the walls of the tub. It's a sub-zero thermal that wraps around the frame and there is also a spray foam layer as well.
Technically it can seat three people because one side of the hot tub has jets at both ends. However, if you put two people on one side of this hot tub, both will have to seriously scrunch their legs up as there is just not enough room to seat both on one side comfortably.
The voltage is going to be 220v so the jets are going to be rather powerful. A lot of other hot tubs are only at 110v or 120v, making it hard to get powerful water or air streams inside of the hot tub.
Watch out for the dimensions of the tub, though. The manufacturer claims that it is about 31 inches but it is actually a little larger than that. This may not seem like a huge deal, but if you are planning to put it in a room with a doorway that doesn't allow for this width or height, it's going to be a headache when you find out that it doesn't fit.
An annoying thing about this tub is that it actually doesn't come with the plug in cord. You're going to have to buy one and you'll need to make sure the plug in cord is installed correctly and if you haven't done it before you may want to ask an electrician about the best way to do it.
Pros
Cons
Review
The Montreal comes with fairly standard but not unimpressive features.
The jets are stainless steel and placed very well. There are 28 of them so you can be sure that you and your partner will get a lot of body coverage. There are feet and calf water jets for you to use to relax after a long walk or workout
Technically, the Montreal can fit 3 people. However, on one side of the tub there are no leg or foot jets. This means that the two people that are on one side won't get any water streams on their legs or feet unless there are only two people in the tub.
It also has LED light that actually goes all the way around. The lights also can be found behind an elegant waterfall as well. You can set the mood in this one by changing the color of all the light and also changing the intensity of light.
For cleanliness, there is an ozone generator which turns oxygen into ozone which is great for fighting bacteria and other contaminants in the water.
Bluetooth is also included in this one. A lot of hot tubs either don't have it or all they have is a radio. But this built in audio system can hook up to your devices and play music or streaming audio.
The insulation is included in this one which may not seem like a unique thing, but actually a lot of hot tubs don't have insulation. You are either expected to put insulation in yourself, or live without it. Installation is expensive and living without it means the heater will work harder, therefore using more energy, and causing your water temperature to cool a whole lot faster.
A flaw with this one is that the power is only at 110v. So your jets aren't going to be as powerful as other tubs which often have 200v and even 220v powered stainless steel water jets.
Buying Guide
How much is a 2 person hot tub?
When looking around for a quality plug and play, 2 person hot tub spa, you may be spending anywhere from 2000 – 6000 dollars, depending on what model you choose. This may seem like a turn off at first, but when you are considering how long a quality two person hot tub will last you, the cost might just be worth it to you to get the best experience.
Also, if you're going to enjoy yourself during your relaxing hot tub time, you want there to be a good number of features, like total water temperature control, that are easy to use to get fully in the mood. This usually comes with a higher price tag, but really lets you enjoy the pretty great experience of owning a hot tub.
You may be able to find 2 person hot tubs, especially an inflatable tub, for under $1,000 dollars, but it's unlikely you will be able to find the best tub that is long lasting and filled with features.
What are the most energy efficient hot tubs?
2 person hot tubs generally drain a good bit of energy. Keeping the water temperature steady for long periods of time, including all the preheating time before you even get into the hot tub, will probably raise your normal household energy bill. You will want to find the best hot tub that uses its energy efficient design in order to cut down on your bills from your tub.
The QCA Spas Model 0 Gemini hot and the Laguna Spas 2-Person hot tub spa both have very energy efficient mechanics that don't require you to do really anything and keep your water temperature great.
The Laguna Spas 2 person hot tub spa and the QCA have a two stage heating system that, in addition to being heated by the normal method, utilizes the heat coming off the motor and also the pump to keep the water temperature in the tub hot, rather than solely relying on the heater to keep it that hot. Both are really energy efficient.
What is the best hot tub to buy?
The Laguna Spas hot tub is probably going to be your best bet. It's compact. It's very comfortable. It stays heated very well and the energy efficient mechanism can't really be beat.
The only flaw is that it doesn't have an ozonator so it's not going to be the easiest clean.
What is the smallest hot tub available?
Most people who are looking for the best two person hot tub spa are considering space. If you have a limited amount of it either inside of a bathroom or outside on a deck or patio, you'll want a small, easy to use, compact hot tub spa. Enter the 2 person hot tub spa.
The Laguna Spas 2-Person hot tub spa is one of the smallest hot tubs you will find. Coming in at only 4 feet long and 6 feet wide, it is definitely a space saver.
Most hot tubs are at least 7 feet long and a little over 6 feet wide, so the dimensions for the Laguna tub are definitely a good bit smaller and will work the best for your specific space needs.
More To Explore