Alcove tubs are a really great in between when you don't want to do a full drop in tub remodel or you don't like the look of a simple stand alone bathtub.
They usually one sided, meant to fit into your bathtub alcove which is usually three sided to maximize space and get a good amount of privacy for you.
A variety of alcove tubs are available and choosing the best alcove bathtub may be a little difficult since they are not your standard tub. To get a better understanding of what you are looking for, check out the guide below.
Table of Contents
Review
This Toto is one of the best alcove bathtubs for your bathroom. It is a great alcove tub for people who might be worried about durability. You'll want your alcove bath to last a long time, and not just to keep from having to buy another one, but its also best to not have to continuously repair your alcove tub.
Obviously replacing your entire tub would be a very big expense and the most troubling event. But having to continuously make repairs on your existing bath would add up very quickly.
Cast iron is used in this bathtub's construction, and that's what makes really durable and long lasting. Most alcove tubs aren't made from this material. The cast iron also luckily gives the alcove bathtub a slip resistant surface, which is the best kind of surface for elderly people and for anyone who doesn't want to take a tumble.
This tub also has a pretty sleek design. Very simple but the bathtub will definitely fit with pretty much any decor in your bathroom. It is also designed to be compact so if you have a smaller bathroom this one will probably be great for you. Because of its size, it is a little more cost effective than other alcove baths, which is a big plus.
Due to the slant at the back of the tub, this is definitely not the best tub for soaking. You will probably getting pretty uncomfortable after a longer period of time.
Also, you will want to consult a good contractor before putting this tub in. Since the the bathtub is made from cast iron, which is a very heavy material, you may need to reinforce the floor it sits on.
Review
This Cayono enameled steel tub also provides tons of durability. Built the same as the Toto, these enameled steel alcove bathtubs can fit one person very comfortably. This tub has an antibacterial surface which makes this alcove tub even better for those who want a health concsious bath while being extremely durable.
Since this tub is built so sturdily with its steel construction, it is much easier to install than other bathtubs, mostly because of the fact that it does not need a mortar base. A porcelain finish gives the bathtub a luxurious look as well. This may give you a chance to update your bathroom's surroundings to match the look of your tub.
It is a whole lot cheaper than the Toto tub, which may give some people a better chance at getting the tub. And it's combination of luxury and most importantly, durability, will definitely give a good reason to look into this tub.
The availability of the drain system is a little strange. There are two types of drain made for these particular alcove bathtubs, but only one fits well and also gives the tub an extra inch of depth.
At the back of the tub, the side you will actually sit at, it is angled about forty degrees, which makes for quite a comfortable bath time.
Also, since it may not be the deepest tub out of all alcove bathtubs, you would definitely want a slanted back rather than one that is straight up and down so you can be lower in the water.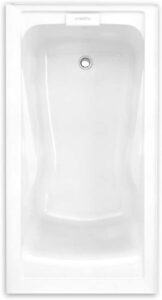 Review
If you a long, deep soak is what you're looking for from your alcove bathtub, you will be pretty pleased with this one. The America Standard bathtub holds a whopping seventy gallons of water when full, which is almost twice the amount some alcove bathtubs hold.
In addition, this tub has dual molded arm rests for added comfort, and it also has a molded back rest which is really great. It is fairly lightweight since the material it is made from is acrylic. This will also make it pretty easy to install your American Standard alcove bathtub.
This tub has a mortar bed, which is a tiny bit tricky for a someone who hasn't had much experience with that kind of install. The edges of the alcove bathtub may be a little narrow, which may keep you from being able to put drinks or candles and things like that around the tub.
To aid in holding a lot of water, the American Standard over flow system's drain is a lot higher up on the inside of the alcove bathtub than most to make sure that when you fill up your tub, the water level will be able to cover your entire body while sitting down.
You have to find a good balance between filling the tub all the way to the drain and not filling it too much so as not to over work your water heater. However if you have a large enough water heater in your house this may not be a problem for your American Standard bathtub.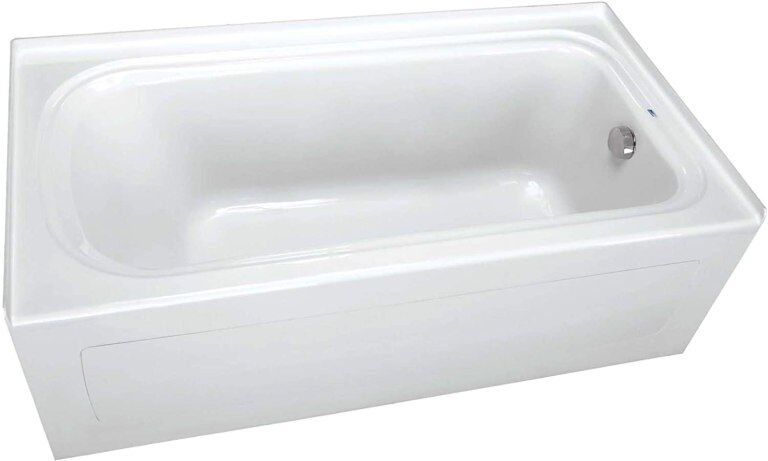 Review
The PROFLO alcove bathtub is another one of the best alcove bathtubs for deep soak tub that will allow you have the majority of you body covered while still sitting mostly upright. It is made of acrylic as well, but it has a slight decline at the back of the tub which is steeper than the American Standard. This makes the bathtub a little more comfortable than the American Standard when sitting in it.
It is also able to hold up to seventy five gallons of water when full, which is about five more gallons than the American Standard bathtub, but also features a higher drain similar to the American alcove bathtub .
It features a slip resistant bottom which is a great plus especially since its large depth may make getting in and out of the tub a little difficult. Its able to keep you from slipping inside your alcove bathtub in your bathroom because of its textured bottom which is comfortable despite this addition.
You will still want to be as careful as possible when getting in and out of the tub obviously, especially since this is a deeper tub and may cause more difficulty entering and exiting.
Depth is the main bonus for this alcove bathtub, however, it could be a tiny bit longer than it is. The alcove bathtub water will definitely cover you entire body unlike other alcove tubs, however, the average height person may not be able to extend their legs all the way.
Review
A whirlpool able alcove tub is a really great addition to your bathroom. Not only is it spacious and will give you a relaxing soak, but this bathtub features ten jets to even further your peaceful tub time. The motor powering the jets in the bathtub is about 1.2 horse power so you'll be getting a good water massage.
It also has a lumbar support design so that your back can be supported while experiencing this tub's jets. And not only can you enjoy it, but your partner can enjoy it with you! This alcove bathtub features two headrests and room enough for two. The ten jets definitely accommodates you and another person in the bathtub, no problem .
The tub has a one hundred and seventy gallon capacity, made with two people in mind. However one person can definitely have a wonderful time by themselves. It also has a built in shower head as well which only adds to this bathtub's already extensive water features.
The only downside to this particular alcove whirlpool tub is that it does not come with its own internal heater. This means that how long the water stays hot in the bathtub will all depend on how large your house water heater is.
You may be able to install a leader water heater in your house to accommodate for the lack of internal heat in the alcove bathtub, but this may cause more expense than is worth the trouble.
Review
Six air jets come with the Jacuzzi tub, a great addition to one of the best alcove bathtubs. The round design gives the jets a centric directional flow and because of this, the tub is able to give you a really good water massage. Jacuzzi bathtubs are constructed with high gloss acrylic which makes it a pretty smooth tub to lay in for a longer period of time. And you definitely want to be in this tub for a while because its great jet system.
A twenty five degree slope is built in to this tub so that not only will the jets get to most of your body, but you can sit back at an angle to increase your relaxation. Jets in the tub can also be adjusted by how strong or soft you want the force of the water coming out of the jets to be.
It's easy to install because of its integral tile flange which allows for the tub's edges to be placed into its alcove without too much hassle.
Though it is relatively easy, the tile flange that comes with the bathtub will need to be very carefully done and it would be a good idea read up or watch videos of it being installed. Or you can get a handy man to help or install it for you.
A lack of included faucet may frustrate some people. The fixtures are not included and you will have to buy them separately from the tub. This does allow a certain level of customization, however, not only with style but also with sizing, as pre-installed faucets may take up too much room in some other alcove whirlpool bathtubs that you can find.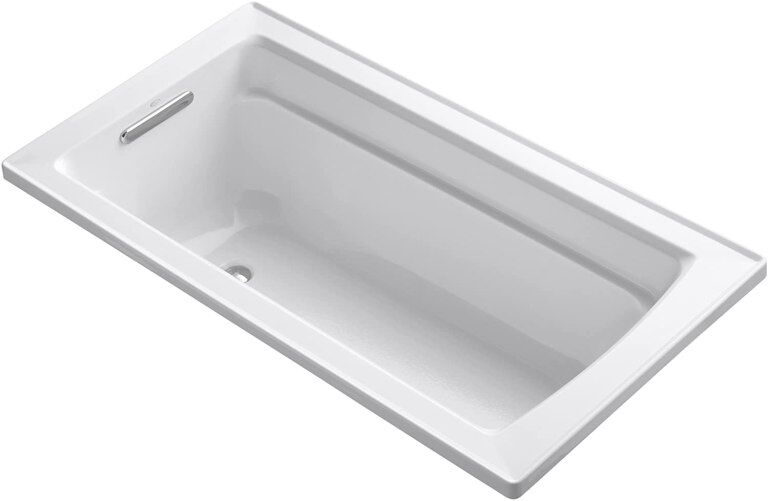 Review
This acrylic centered tub is the cheapest alcove tub available while still holding to pretty high standards. The bathtub has a low step side wall which will definitely help getting in and out of the tub. Armrests are built in to the bathtub and on the back wall of the tub, there is a molded lumbar support to be sure you will be as comfortable as possible.
Also, this bathtub is part of a larger collection, called the Kohler Archer collection. This means there are a lot of customizable features that you can attach or replace on these alcove bathtubs.
Depth is also great in this tub, the average sized bath taker can mostly submerge up to their shoulders. Some people may have a little trouble with this tub because it is a little more narrow than other tubs, even normal, non alcove tubs. However the edges of the bathtub are wider than most, so setting drinks or candles won't really be a problem with this alcove tub.
There is also an inner lip all around the inside of the tub that, while contributing to the narrowness of the tub, also provides a great place to prop up you fit while lying inside of the bathtub, or even a good place to put your foot while standing and washing in the bath. This is good because most bathtubs only have slick sides with no support which can be dangerous.
Review
This acrylic centered tub is the second cheapest alcove tub available. It features a similarly built acrylic model. Acrylic is supposed to be great at retaining heat, so these kinds of tubs will be great when wanting to soak for a long time.
The acrylic is also designed to be really easy to clean. The slick surface of the bathtub allows for dirt and grime to not easily attach to the acrylic. However, you will want to make sure to not to use cleaners that are abrasive because the surface is very easy to scratch.
An angled backing is built into this bathtub so that you will be able to lean back and relax even better, and arm rests are carved into the inside of the tub which is a great addition to its comfort level.
The drain is located on the right side of the bathtub tub and is fairly high to give a better chance of a more submersible experience. Also, the floor of the tub is constructed so that it can be more slip resistant. This coupled with the tubs arm rests makes it a very safe tub to lay in.
Buying Guide
Now that you know some of the best types of alcove tubs and have a general idea of what's available, it is also necessary that you take into consideration some factors before choosing your alcove tub. Here are some foundational considerations.
Size
This is a big factor to be thinking about . The size of your bathroom is really going to determines how big of a bathtub you are going to place in your bathtubs alcove. If the bathroom is way too big, then it can hold a fairly large tub and still have room for the installation of other bathroom material. IF the bathroom is really small, then a small tub is the right option. The size also determines comfort. A large size tub gives much more comfort and support compared to smaller one.
Best Alcove Bathtub Material
A variety of different materials are used to construct alcove tubs. Some examples of material used are acrylic, cast iron, fiberglass, and Americast. Acrylic has pretty good durability feature but fades quickly, fiberglass lasts longer than an acrylic but doesn't really have an attractive design, cast iron lasts the longest but its material is extremely heavy, and the Americast combines both durability and design since it's material is a blend of porcelain and steel. Most American standards are made from Americast.
Cost
A huge feature that differentiates alcove tubs from one another is affordability. If you are looking for a tub with great qualities but cheaper price, or if you are looking for simplicity paired with quality design, you will want to select a price that matches your budget but stick to those one or two important factors that you need in a tub.
Fixtures
Some alcove bathtubs don't come with any faucets or handles or similar fixtures. Often times you will have to get these parts separately. While that does leave room for your own personal customization, it also presents a fit and quality problem. You will want to make sure that the faucets, handles, or shower heads you get are made specifically for that tub.
FAQS
Q: How do I know if I am getting the right size tub for the alcove in my bathroom?
A: You will have do some measuring of the space the bath is intended to go in and then compare that with the available sizes for the tub you are looking at.
Q: Do I have to use a different kind of cleaning material with alcove bathtubs?
A: Yes and no. Each alcove tub will be made from different material. Cast iron holds up very well so most any normal bathtub cleaner will do. Acrylic material is extremely prone to scratching so not only will you want to use a less abrasive cleaner, you will also want to use a very soft cleaning tool. Also, you will want to determine the frequency of cleaning by the type of material of the tub. Though it is not exactly dirt or grime, steel built alcove tubs are some of the best, but may rust, so you are going to have to keep an eye on it possibly more than other tubs.
Q: Do all alcove tubs need a mortar based constructed for them?
A: No. Tubs made with heavier material will not need nearly as much of a frame holding them in place, you may just need a two by four frame for them. But lighter tubs will definitely need a much sturdier base holding them in place. Consulting a licensed contractor will be your best bet for what frame to use.
More To Explore