The luxurious centrepiece of the best whirlpool tub, with its bubbling jets, atmospheric lights, and soothing temperatures, is a great addition to any bathroom.
Enabling your bathroom to become a place to languish in style and comfort is a desire for many buyers.
However, the details, facets, and options of the best whirlpool tubs are often overwhelming for the shopper, and it can be difficult to ascertain the best buy possible.
Below is a list of the 8 best whirlpool tubs available and includes all the factors necessary to consider when adding this opulent piece to your bathroom.
Table of Contents
Best Whirlpool Tubs Top Picks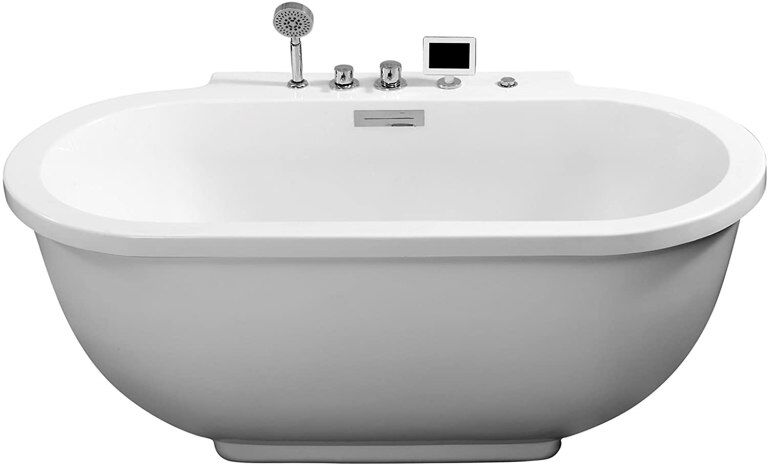  5/5

Check Latest Deal



Woodbridge Water Jetted Whirlpool Tub
 5/5

Check Latest Deal



American Standard Cadet Whirlpool with Hydro Massage System
 5/5

Check Latest Deal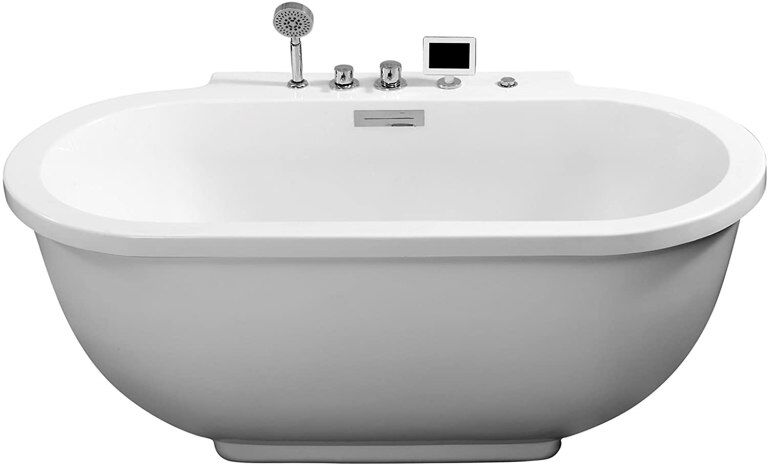 Ariel Platinum Whirlpool Tub Review
This model is wonderful for the quality minded buyer. The acrylic exterior makes for a premium build that keeps normal wear and tear at bay. Harmful occurrences such as fading, chipping, and cracking are much less likely with this type of material protecting your tub.
Fiberglass reinforcement that is built in to the luxurious bath will also elongate the lifespan of this particular jet powered tub.
Ergonomically, this bath is perfect for any occupant, the shape allowing for a far more comfortable experience that also supports the natural contour of the body. In addition, two people can comfortably fit in this whirlpool tub.
The system responsible for draining water out of the whirlpool is advanced enough to also prevent most excess water from slipping over the edges.
In order to access every part of your body to allow for maximum relaxation, the bath has 14 different multi-directional jets. The type of flow can be adjusted 6 different ways as well, increasing your customization.
Lights of green, blue, and red can also be turned on to create a mesmerizing atmosphere. These lights can be controlled through the touch screen, which also features bluetooth connectivity.
Woodbridge Water Jetted Whirlpool Tub Review
This freestanding bath has a whirlpool feature and air bubble jets. The bath features 10 different jets that are completely adjustable. These jets are able to deliver a mix of air and water along with relaxing bubbles capable of efficient massage.
The motor capabilities of this tub are able to deliver a strong stable flow giving you the kind of massage that soothes and is capable of proper muscle manipulation. The user will require power levels of a 110 V, 60hz, 15A on a dedicated circuit.
Proper jet quality is actually very important in aiding blood flow in the body, a great use for your bath.
Stainless steel is incorporated into this model along with jets that are able to fully drain.
The acrylic incorporated into the Woodbridge has a high gloss finish making it the perfect tub to show off. Uniquely, the acrylic is reinforced not only with fiberglass but also with resin.
The reinforced material also is designed with an anti-leak drain system. The easy install for the complex unit is the preferred trait, along with its anti-odor feature.
Tubs with high weight are usually high quality but often too expensive. This bath combines low weight, medium cost, and higher quality.
American Standard Cadet Whirlpool with Hydro Massage System Review
The American Standard is the perfect jet tub for ultimate comfort. It is equipped with elbow supports, armrests that contour perfectly, and a backing that is form fitted.
Eight directional jets offer soothing results for each part of the body. The jets are positioned to propel into the lumbar area, a sore point in many users.
Faucets and fixtures can be easily customized to match already installed handles.
Though the flow of the jets only have single speed capabilities, the power level is effective in massaging the pressure points with its 1.1 HP.
As with other types of bath jet tubs, the drain is built for efficiently taking away the water and preventing it from overflowing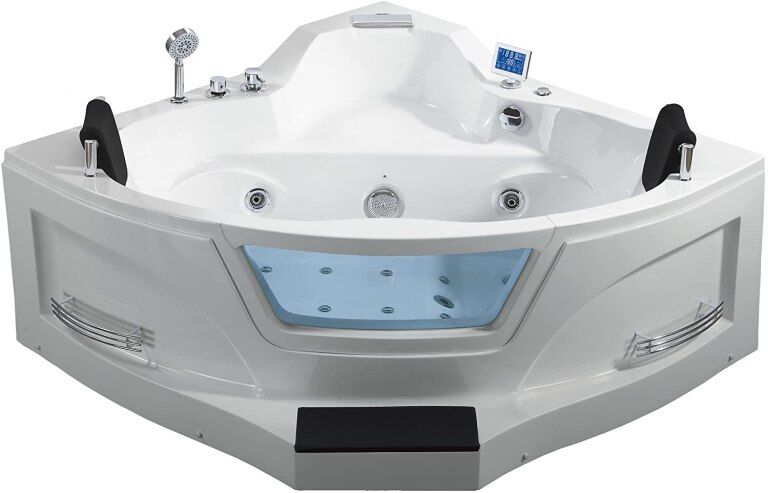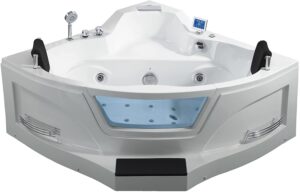 Ariel BT-084-2017 Whirlpool Bathtub Review
This iteration of the Ariel whirlpool is designed to not only accommodate multiple people, but adds an even more accented head feature for both. The triangle shape also allows for greater space for owners to enjoy. It even features a small window at the front of the tub.
Typical acrylic siding reinforced with fiberglass makes up the mold of this model, however the 3.7 gallon per minute water flow is higher than other models and can fill your tub much more efficiently.
Another typical extra feature include LED lights that provide a variety of colors, giving you the ability to set the mood of your jet tub area. The built in FM radio is also a typical but necessary feature to compete with other models. A unique feature is the air regulator valve. It is able to create a slew of bubbles more constant and frothing than some other jet tubs.
The digital jet tub can be controlled via its screen panel. This panel controls 14 jets, audio function, temperature, heat pump, water pump, air blower, and LED lights all in one convenient location.
Buyers will be pleased to not have to continually re-fill this jet tub as the system has its own heating unit which means the water stays at the temperature you set it to
Symbolic Spas Massage Whirpool Tub Review
This corner cut tub allows for optimal spacing in your bathroom, while still giving the feel of a large tub. Not only is jet positioning available, but each one can be turned on or off, conserving energy and utilizing only the space the user is actually in.
Noise is a big factor when considering purchasing a jet tub. However, the Symbolic brand is known for its quiet yet powerful jets.
Cleanliness can be assured when buying this model, as each jet can be removed and washed easily in any dishwasher, and the shaping of the tub provides for every ounce of water to be captured and drained, preventing buildup of mildew and fungi.
The Symbolic whirlpool also offers more flat space than other brands of tubs. This allows the owner to customize and add additional features without cluttering up the bath top.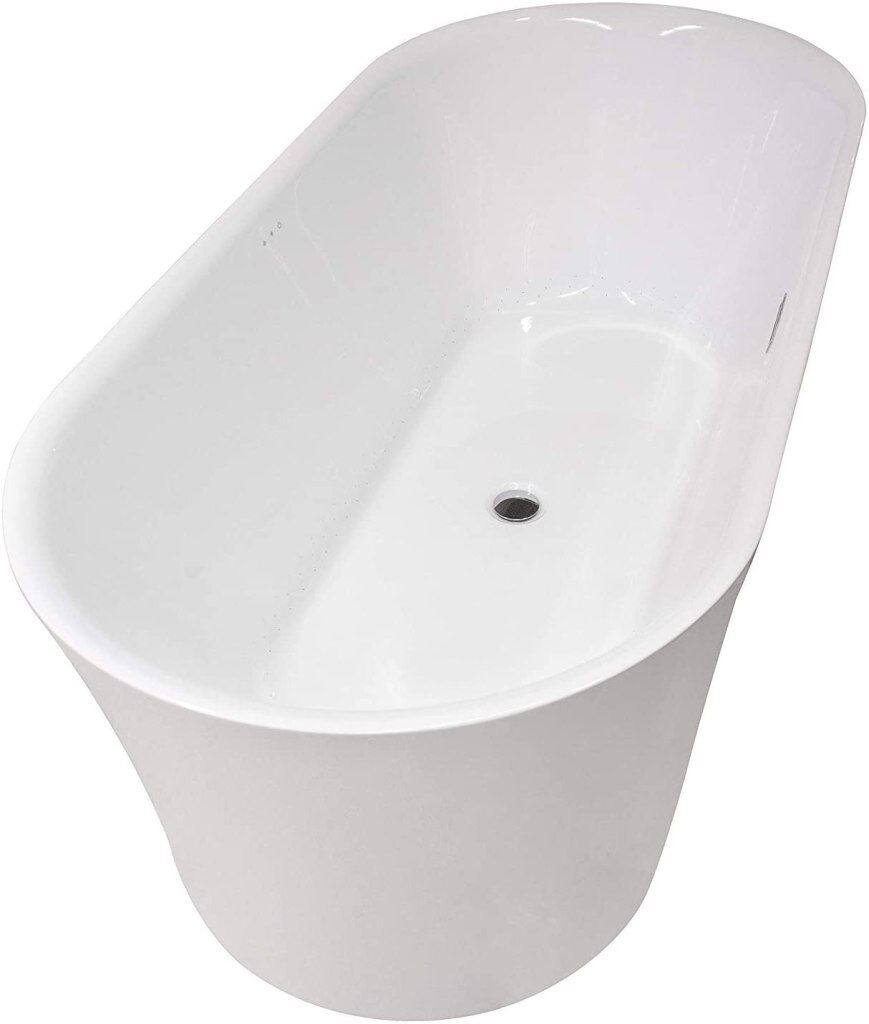 Anzzi Jetson Whirpool Tub Review
Power meets chic in the Anzzi whirlpool. Its design with higher end models in mind, coupled with strong, full body massage ability has buyers looking no further. Its built in lights are not just made for exciting atmosphere, but for chroma-therapeutic purposes, increasing blood flow by its water jet usage and relieving stress with its calming light effects.
While some control pads tend to mandate the manhandling of its buttons, the Anzzi tub only requires light touches to put the system into action, furthering its high end in mind design.
The tub is able to hold up to 80 gallons of water, but is equipped with overflow and popup drain to prevent excess water from being displaced and proper disposal of water when its use is over.
MCP Distributions Indoor Massage Whirpool Tub Review
The MCP comes equipped with radio, LED, and air jet features. Its sleek design gives it the modern feel, the stainless steel frame adding to the effect. A hand held shower wand is also attached the tub, giving another source of water to utilize while the tub is in use, and also as an aid to clean the system afterwards.
Though you will need a 30 amp breaker as the inline heater, air pump, and water pump are all on one circuit, additional features such as the water level sensor and waterproof headrest more than make up for this facet.
Two people can comfortably sit in this jet tub as well and with its 13 jets, it is sure to accommodate the needs of two users, the jets reaching all the necessary muscle tension points of the body.
Ella's Petite Massage Whirlpool Tub Review
Whirlpools with manageable entry ways are often hard to find. Enter the Ella's Petite. Its tempered, inward swinging door allows for easy in and out. The installed seat allows for very comfortable sitting as opposed to the floor sitting required by most other jet tub models.
Installation does require a helpful contractor, however the many adjustable legs allow for a wide variety of placement for the system.
As for its water massaging capabilities, its 14 jets with controllable flow regulator and its hand held shower spout, usable at the same time as its normal immovable spout, makes this tub a no brainer for those needing safety and controllability while soothing away aches and pains.
With its many features a dedicated 30 amp circuit is needed to handle the load and most likely a large (over 50 gallon) heating tank is needed to fill the tub completely with hot water.
However, the incredibly fast draining ability of this model, along with its swivel tray for drinks or food, well makes up for these power and capacity requirements.
What Makes The Best Whirlpool Tub?
A conscious buyer needs to be on the lookout for the best features in a whirlpool tub. The variety of features can be overwhelming at times. Below are a few features that may be in the whirlpool tub buyers interest to consider.
Jets
Jets are one of the main reasons consumers purchase whirlpool and jet tubs. With muscle massaging, therapeutic capacities, jets are the number one looked for feature in this type of bath.
The number of jets should be taken into consideration when purchasing a whirlpool. All areas of the tub should be able to be used while still getting the necessary water massage.
Placement of said jets should be looked for as well. Jets placed too high or too low may inhibit the bather from benefiting from the soothing power of the jets for a specific part of the body.
Lastly, controllability of said jets, whether it be power, directional flow, or single shut on or shut off ability, is a key factor in finding the right tub for you.
Design
The outside look of the tub is a necessary requirement for many buyers. Your bathroom is a manicured area and bringing in a tub that reflects that look is important.
Inside the jet tub, its contour to your body, head rests and back rests, and size all play a part when deciding if a tub will be comfortable enough for you.
Temperature
Heat level can be tested from one bath to another, and is specific to each person. If your heat tolerance is high, you may want to go with a tub that can safely raise the temperature to your liking, or be disappointed by a warm, but not hot, water temperature.
Look for a tub that has an inline or in-house heating system. This will allow the water to stay hot without having to drain and re-fill the tub.
Material
Molding material of the tub is very important and its life span, damage resistance, and look should all be considered when purchasing a whirlpool. Cast iron may last very long, but be prone to rust. Acrylic may be cheaper, but more susceptible to damage.
More To Explore