When looking for an ice bath for sale, there are a number of imprint factors to consider.
Purchasing a high-quality cold plunge is an investment in yourself and your mental as well as physical wellbeing, so choosing the right one for you is important.
In this article, we are going to be looking at the main reasons why you should upgrade from a DIY ice bath in your normal tub to a professional-grade cold bath.
While professional grade cold tubs don't come cheap, they may be much more affordable than you expect. Besides, you can make no better investment than in yourself and your health. Making your wellbeing a priority is a decision that will keep paying dividends for years and decades to come.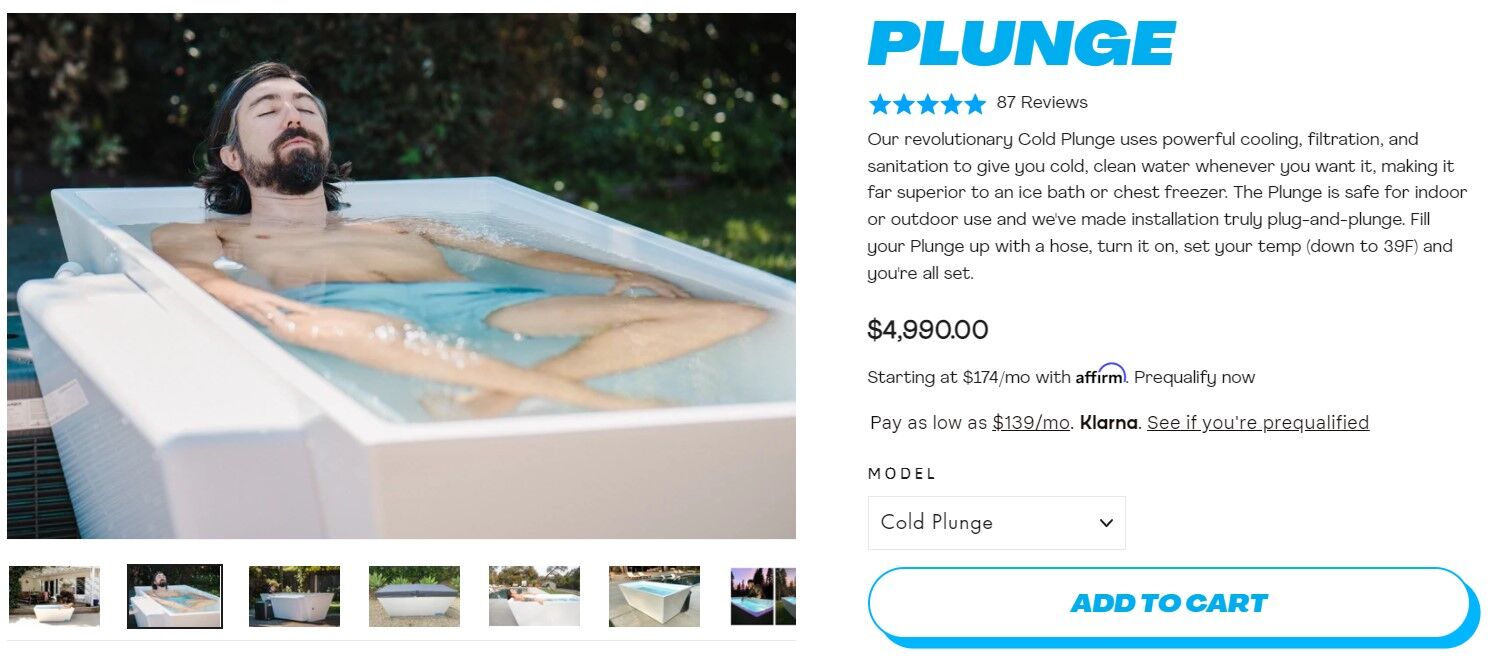 Now, without further ado, let us go over why you should upgrade form a do-it-yourself bath filled with ice cubes to a professionally built and tested cold plunge.
Up the quality of your ice baths with an industry-standard tub
If you are reading this, you are probably already familiar with the far-reaching health benefits of taking ice baths.
But just to remind you, cold water therapy comes with a range of positive effects that are pretty mind boggling. Immersion in ice water makes your blood vessels constrict, which lowers your blood pressure and heart rate. Cold plunging also reduces swelling and aids athletic recovery. Another important benefit is the ability of cold water to kickstart your immune system and increases white blood cells, which fuels your body with more energy.
While taking cold plunges in your bathtub – with the help of copious amounts of ice cubes – is an excellent place to start when you are only just discovering and exploring the possibilities of ice bathing, it has its limitations.
Save time and effort
First of all, preparing the ice cubes and filling your bath with them until the water reaches the desired temperature can be quite a chore. If you've become a fan of ice bathing and practice cold therapy on a daily basis, DIY'ing your ice baths can be a massive time sink. Just take a moment to consider the time and effort a pro-grade cold bath could save you .
Avoid hypothermia
One of the challenges you face when when preparing ice baths at home is regulating the temperature correctly.
The recommended temperature for ice baths is between 0–15° Celsius or 50–59° Fahrenheit. Extreme temperatures have their positive benefits, but going too far could be very dangerous.
With a professional ice tub you'll be able to set the temperature you want, rather than having to constantly keep an eye on it with the help of a thermometer.
Invest in yourself
Buying an ice bath is an investment in yourself and your health. If you are an athlete, it could even be considered an investment in your athletic career.
What do you need in a cold tub?
Whether you are an ice therapy convert or simply a health and fitness enthusiast, a professional grade cold tub will unlock the full effects of cold therapy for you and help you recover faster, improve your athletic performance, heighten the quality of your sleep, and have a positive effect on your entire body and health overall.
But how do you decide on which cold water therapy tool to go for? Naturally, you want to make sure that you pick the right product for you. This checklist will help you with what to look for.
Functional features
One of the most important things to look for when choosing an ice bath is with one comes with the most functional features.
You want to the features to be intuitive and easy to operate, rather than something that requires an advance manual. After all, you're investing in an ice bath to make your life easier, not harder.
Quality construction
This is a key aspect to consider when you are in the market for a cold water therapy bath. While the initial price difference may not be that much, there is a huge, long-term difference between quality and sloppy construction.
Pick an industry insider provider
Make your purchase from a dedicated provider, such as PLUNGE. The reason why you want to buy from a provider who is expert in the cold therapy field is that they know what they're doing – they know their own products, and chances are, they know much more about cold therapy than you. This means you'll be able to direct all of your questions at them, and that you can reasonably expect them to be able to give you insightful answers.
Another important reason to buy from an industry standard provider is that they'll be on hand to help you if you run into any technical issues with your new ice bath.
Value for money
Last but not least, you should be looking for fantastic quality and value for your money. You don't want to cut any corners when it comes to the cost, as that is going to reflect in the quality of the bath can get – but you want to find the best bath that fits in your budget.
What is the best cold water therapy solution?
Thankfully, there are many expert providers out there, including California-based PLUNGE, a company delivering tubs that are hand-made, thoroughly tested and packaged with love.
PLUNGE offers an impressive array of high-quality, made-to-order plunges, as well as plenty of additional supplies. They even offer set-up and maintenance – which makes putting a cold plunge in your very own backyard a smooth and easy process.
Does PLUNGE offer the best ice machine on the market?
Whether you are looking for a cold therapy training tool or a made-to-order ice tub, PLUNGE have got it. With plenty of options for customisations, you cannot go wrong with an ice bath from PLUNGE.