Hot tubs certainly aren't cheap so you should always be on the lookout for the best deal. So when is the best time to buy a hot tub?
Best Time Of Year To Buy A Hot Tub?
Now it's quite easy to see why this is such a common conundrum. Surely hot tubs are more of a summer thing and so should be cheaper in the winter. It's just like buying your winter coat in the summer to get the best price. Afterall, hot tubs are big and expensive which means retailers don't want them hanging round. But is the best time of year to buy a hot tub really the summer? What about cosy nights in the winter? Wouldn't a hot tub be ideal then?
Looking into when people search for hot tubs on Google, it's pretty clear there isn't much seasonal variation in when people in the US buy hot tubs. However, there does seem to be a regular peak in June each year when hot tubs are most popular with a low point around September to October.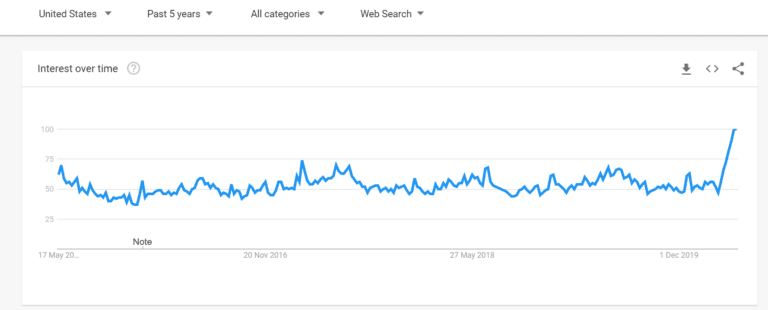 Interestingly researching this in May 2020 it is clear there has been a spike which must be due to the Coronavirus pandemic as more people decide to stay home with the luxury of a hot tub.
Should You Wait To Buy A Hot Tub?
So overall it looks like if there is a best time of year to buy a hot tub then it is in the Fall when demand is lower. However, it doesn't look like a dramatic reduction so it is unlikely many retailers will offer discounts. You should probably also consider if it's worth waiting until September to buy a hot tub.
For one thing you might enjoy buying a hot tub sooner rather than later. But also remember that waiting all winter to use a hot tub means it is left outside. That means you risk issues like freezing pipes and other effects of the elements on your precious new tub.
What's more, if there are any faulty parts you weren't aware of when you bought the hot tub a retailer is unlikely to accept a return six months later. It might be better to buy a hot tub when you have the time and inclination to properly test it out as soon as you buy it.